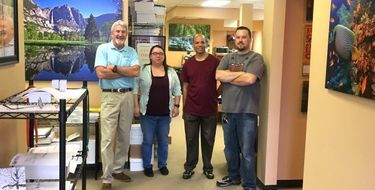 Minuteman Press Franchise in Bellaire (Houston) Makes Sure Loyalty is Brewing for Clients In All Industries
Minuteman Press in Bellaire (Houston), is owned and operated by Steve Edman, a respected B2B Services Industry leader with a client so impressed, she stuck with his services though her titles and associations changed…and those associations all stuck with him too.
Through eighteen years working in what he affectionately calls "the beer business" Steve Edman knows his talents helped make them the largest beer distributor in the world.  He is to be counted upon by all who lend him their trust as he proved by moving up the ladder from driver salesmen to managing a sales force of three hundred plus employees working twenty-hour days, seven days a week during his career.  As he gained new titles (including Senior Regional Sales Manager) the Houston distributor that was his employer scored a rank of number one in the state.  At the height of his success with that corporation, he decided it was time for a change of pace to a more favorable lifestyle.
"Today, the famous beer distributor I worked for is number one in the world and I let all my former teammates know that my work was part of that," Steve says with a smile.  "My family attended some good events and festivals over the years and my daughters grew up in a fun environment surrounding the subject of alcoholic beverages. They learned to be responsible about it, too." 
When what equated to 80-hour workweeks became unappealing, Steve retired at the age of 50 and enjoyed spending time with his youngest daughter, who benefited from the extra parental attention.  A few years later, he took leisure time with extended family, playing golf with his brother and he also enjoyed a variety of water sports. Then his boundless energy to try new things and build a new business became too much to remain retired.  He adds, simply, "It was time to get back to work."
His first encounter with franchise opportunities came from a trade show he attended and he felt many of the representatives there were predatory, not necessarily concerned for his best interests at all.  "I went to a franchise show and was there for about thirty minutes before I walked past all of the "used car salesmen" types at those franchise shows and found five or six guys from Minuteman Press International. They were different in the sense that they were not just trying to get me to buy something.  I felt good about the concept and I didn't know what "Minuteman" was exactly."    
As he toured actively running Minuteman Press franchises and got the inside scoop on the reality of buying one from the owners, he only felt more excitement.  "My wife of forty-two years, Robyn is a soon-to-retire executive for Chevron.  She and I agreed I knew nothing about printing, but I do read and everyone needs printing.  After the tours I took with Jim Reedus (former Regional Vice President), I signed my franchise agreement and the rest is history.  Turns out, for me, selling printing is just like selling beer because in both careers, I am making connections with people and providing what they need. Making friends is our business! I just had to go to corporate training for printing to learn the "nuts and bolts of the new industry". When I went to the Minuteman Press International Headquarters for training, Mike Jutt (Executive Vice President/Director of Training), Brendan Reilly (current Director of Vendor Services) and Dave Scadin (Co-Director of Training) were really good to me."
Thirteen years later, Steve was able to incorporate his personal style, a fantastic staff and the advantages of being able to say, "We Are the Modern Printing Industry" into a successful venture.  "I enjoy what I am doing and welcome the people Rich Panowitz brings in to tour our center.  My crew works hard, but we make a good product, have a good lifestyle and a normal workweek that does not include working weekends and late nights."
"When Hurricane Harvey hit us, Mike Jutt was good to us, making sure to get on the phone every day with me for about ten days and he was a big help during that disaster." – Steve Edman, Owner, Minuteman Press Franchise, Bellaire (Houston, Texas)
He admits if he started his time as owner earlier in life, his goals might be different, but appreciates the flexibility he has now.  He can set his own benchmarks and run his own show, not work for someone else.  He appreciates his team, too. "Vance Donaldson has been our production manager for 11 years, Kristine Diaz has been office/graphics manager for 9 years, Curtis Strambler has been on our design team and frontend customer service specialist for a year and a half."  He mentions two other team members, ones that make the effort a family affair. "Alyson Edman, my younger daughter, helps carry the design/typeset and bindery overload for us, working on our monthly newsletter and more. My older daughter, Lindsey, a dental hygienist by trade but now a mother of three, takes care of the end of month/year accounting work for us.  Our CPA trained her from the beginning, so she can telecommute from out of town as needed.  The flexibility has been helpful as she raises her children and the record keeping and reporting is getting done…. right."
His customers heed a range of options, so Steve maximizes every advantage afforded to him by Minuteman Press International in the area of technology with staff that has the skill-set to use it.  "We have both digital and offset presses, so we are capable to do just about anything. Also, I have a great relationship with our vendors.  Last week, a customer made a mistake and we bailed them out within hours with our digital machines. Our paper vendor was able to help out with a quick response.  Again, it always goes back to Christine, Curtis, Vance and my daughters.  I do what I can to make sure they have the right tools so we have a strong base and people want to come to us, not anyone else for design, print and marketing."
Of course, it helps to pay quickly and with a smile! Vendor relations is a key to our business success.
"Steve picks and chooses what he thinks is best for his business at that time and uses it to grow. He knows that the backup and support along with over 40 years of franchising is always there to help guide him as he continues to grow his business year after year. It's just one of the many reasons Steve is as successful as he is." – Rich Panowitz, Houston Area Manager, Minuteman Press International
"We continue to adapt to a changing world and we continue to put out great work." – Steve Edman
Many private schools and non-profits comprise the variety of his clients and Steve also acknowledges the oil industry plus the many small businesses in the area as partners in marketing.  "We print for many galas and goodwill events that wind up in the society pages.  As a native Houstonian, it's kind of cool to point and say, 'We print for them' as they do good for mankind.  We make donations all the time, too; but it is design, print, and service they keep coming back to us for and it's a great feeling.  I like our client base for its variety, but if we lost one, we have enough that it would hurt us more emotionally than in the pocketbook because we are honored to print for them."
Minuteman Press is a proud partner is the current Director of Communications for St. John XXIII College Preparatory School, Donna Cropper.  "She works in the private school sector that we marketed heavily.  We finally got Donna as a client and she has kept ties with us through multiple parishes and schools.  She was happy enough that she was one of our first online reviews and it was positive, naturally."
Traditional printing for St. John's is a must, so they have direct mail, directories and programs, but also bigger things, literally.  "Our wide-format printers allow us to print impressive banners and posters.  Plus, about six months ago, we took advantage of the dye sublimation offering through our franchisor during an MMP Regional meeting.  We are able to personalize coffee mugs, key chains and so many unique promotional products and my youngest daughter is able to focus on this equipment so we can become more adept at serving everyone."
Speaking of service, Donna Cropper has a few good words about her partnership with Minuteman Press over the years and the positions she has held. "The service at Minuteman Press is amazing.  Steve and his staff always help me out when I need honest opinions and often he has ideas that are even better for our goals.  He will warn if something I ask for is too expensive and help us save money through all of our orders, even large format printing of 20 x 5 banners. We count on them for directional signs, Christmas cards, metal signs, informational booklets and I can say on one job alone, they saved us $500.  Plus, the printer we were using before not only charged more, but gave us poor quality in comparison.  Minuteman Press saved us money and provided us with higher quality paper. They are so good at what they do, the parishes I leave for new positions stay with them."
Today, while he has no regrets about buying a printing business with no experience initially, clients like Donna have no regrets about sticking with Steve for the long-term.  "They lend testament to the brand name, 'Minuteman' Press because sometimes I have no choice but to do rush jobs and if I need something fast, they get it done.  Steve loves to tell a good story, too, and is very friendly.  He feels like family, like a brother with a good staff.  We appreciate them very much."
To read the original posted story click here. https://minutemanpressfranchise.com/news/2019/03/07/minuteman-press-franchise-in-bellaire-houston-makes-sure-loyalty-is-brewing-for-clients-in-all-industries/